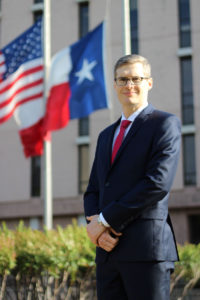 George C. Lobb is licensed in the State of Texas and practices in municipal and county courts across the state. Additionally, George Lobb carries admission to practice before the following United States federal courts:
George Lobb also offers certain services for clients in Mexico under N.A.F.T.A. (the North American Free Trade Agreement). These services must relate to legal matters in the United States such as immigration visas, consular processing, visa-overstay waivers, and other immigration pardons.
George Lobb teaches at lawyer conferences, legal seminars, and other academic forums. George participates in weekly reviews of recent opinions from the: Supreme Court of the United States, United States Courts of Appeals, Texas appellate courts, Supreme Court of Texas, Texas Court of Criminal Appeals, Board of Immigration Appeals, Administrative Appeals Office, and Department of State Bulletins, as well as changes in statutes, codes, regulations, and rules decisions from each applicable legislative or administrative body.
With in-depth experience in criminal defense and immigration law, George Lobb is often sought after to provide insight into new laws and pending cases by the country's top television networks. George Lobb is a regular guest on NBC, CBS, Telemundo and Univision, and has been featured in The Huffington Post, The Intercept, the Austin American Statesman, and Texas Monthly. Watch George Lobb's most recent appearances on our Media page.
Contact Lobb & Pellegrini, P.C. to schedule a consultation and resolve any doubts or unanswered questions about your case. An individual consultation with George Lobb provides you with the best opportunity to have a professional review your case, listen to your concerns, and set a path to achieving your goals.
Austin Defense Coalition (President)
National Lawyers Guild (Regional President)
Austin Criminal Defense Lawyers Association
American Immigration Lawyers Association
International Bar Association
JD, University of Houston
BS, University of Texas at Austin
English, Spanish, Portuguese